[ad_1]

Resolution: Hammond faces faces tougher choices and tax rises
The Resolution Foundation is hot off the blocks this morning, with its full analysis of Philip Hammond's spring statement.
And the verdict isn't great — the think tank warns that the Chancellor won't eliminate the deficit unless the economic forecasts improve, or he raises taxes.
Resolution also aren't impressed with Hammond's claims of feeling 'Tiggerish'. They point out that the economic forecasts are little better than the 'bloodbath' in last November's Budget (which was packed with weaker growth forecasts and higher borrowing).
Britain is still expected to grow slower than the eurozone over the next five years, while real earnings are still not forecast to return to pre-crisis levels until 2025.
Hammond's upbeat performance yesterday sparked some reports that austerity might soon be over. Resolution, though, point out that plenty of government cutbacks are heading out way already — including a swathe of working age benefit cuts.
Torsten Bell, Director of the Resolution Foundation, said:



With the elimination of the current deficit and debt falling next year, Britain is set to pass two major milestones on its long austerity journey since the financial crisis. But the end of the tunnel is still a decade away, and significant obstacles remain before the final destination is reached.

"Steering past these obstacles will require the Chancellor to make some tough choices that he avoided setting out yesterday lest he spoil the upbeat mood. Delivering significant reductions in debt while softening currently planned spending cuts to come will require either tax rises or for Britain to heed the Chancellor's call to 'beat the forecasts'. Planning for the former, while hoping for the latter might be a sensible approach for the years ahead.
Here's the key findings from Resolution's analysis:
Welfare cuts – Just a fifth of the over £10bn of welfare cuts announced in 2015 have been implemented so far. The coming year (2018-19) is set to be the second biggest single year of welfare cuts since the crisis (after 2012-13) at £2.5bn. The scale of additional cuts will grow in 2019-20 to £2.7bn as more families are moved onto Universal Credit.
Inequality and income – As a result of policies announced since July 2015 the poorest third of households are expected to be an average of £745 a year worse off. In contrast, the richest third are forecast to record an average gain of £140 a year. Projected real household incomes are a staggering £1,400 a year lower than forecast back in March 2016.
Departmental cuts – After a short lull in cuts to day to day departmental spending next year, they are set to return from 2019-20 onwards. These include a 12 per cent cut to the Ministry of Justice budget over the next two years, while central government funding of local government is set for a 19 per cent fall. In contrast, DEFRA is set for a 21 per cent 'Brexit bonus' next year.
The next spending review – Choosing not to feed higher inflation through to day-to-day departmental spending in the period beyond the current Spending Review has contributed to the Chancellor's better borrowing outlook in 2022-23. However, it also means yesterday's statement marked a further small real-terms spending cut. As a result day to day departmental spending per person in 2022-23 is projected to have fallen by 17 per cent since 2010.
Meeting the fiscal objective – The Chancellor is still forecast to be borrowing 0.9 per cent of GDP in 2022-23. Eliminating it by 2025-26 as originally intended would require a speeding up of departmental spending cuts in the next parliament. The OBR says that even delaying it until 2027-28 would require per capita departmental spending to fall in real terms in each year.
Updated

The agenda: Spring statement reaction; Draghi speaks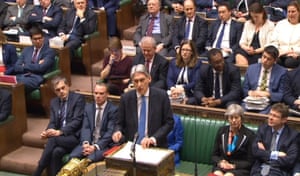 Good morning, and welcome to our rolling coverage of the world economy, the financial markets, the eurozone and business.
Today we'll be mopping up the reaction to Britain's first-ever spring statement. Economic experts have been crunching the numbers overnight, working out what the latest forecasts mean for the UK economy.
The Institute for Fiscal Studies releases its verdict this morning (10am), and other think tanks, research groups and City firms will be having their say too.
Chancellor Philip Hammond did his best to sound upbeat, suggesting that UK could finally be seeing brighter times after years of austerity.
Offering a glimmer of hope for the future, Hammond told MPs:



"If, in the autumn, the public finances continue to reflect the improvements that today's report hints at, then in accordance with our balanced approach … I would have the capacity to enable further increases in public spending and investment in the years ahead.".
But with long-term growth weak, and the Britain's deficit still stubbornly refusing to be wiped out, the picture is still troubling.
Also coming up today…. European Central Bank chief Mario Draghi is speaking in Frankfurt. We also get new US retail sales figures – they'll be scrutinised for hints about how fast American interest rates will rise this year.
The markets are a little subdued, following the latest turmoil at the White House. The surprise sacking of secretary of state Rex Tillerson has spooked investors
Jasper Lawler of London Capital Group explains:



With Tillerson out the door, the market is assuming that Trump is aiming for a more aggressive foreign policy; enough to send a chill through the markets.
The agenda
8am GMT: ECB president Mario Draghi speaks at "The ECB and Its Watchers XIX" conference
10am GMT: Institute for Fiscal Studies press conference on the spring statement
12.30pm GMT: US retail sales for February
Updated



[ad_2]

Source link