[ad_1]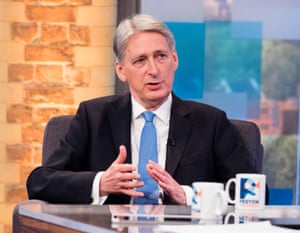 Good morning. Philip Hammond is about to create a little bit of history, when he unveils the UK's first ever spring statement.
But in truth, today's statement will be as notable for what's not in it — we're not expecting any tax and spending changes, and the whole speech could be over in 20 minutes or so.
That's because the chancellor of the exchequer, having moved the budget to the autumn, is determined to only have one fiscal event this year.
So without any fiscal fireworks, Hammond will be focusing on an upbeat assessment of the state of the British economy today.
He's expected to reveal that the UK economy could grow a little faster than expected this year, while borrowing is undershooting forecasts thanks to strong tax receipts.
City experts predict that borrowing this financial year could be revised down by £7bn, to £43bn, while next year's could be trimmed from £40bn to £34bn.
The forecast for economic growth this year is expected to be increased, from the lacklustre 1.4% forecast in November.
Hammond can also boast that, for the first time since the financial crisis, Britain is bringing in enough tax to cover day-to-day spending.
There are many places in the UK crying out for more investment — from the NHS and schools to transport infrastructure and the military. The chancellor, though, is expected to resist calls to ease austerity, and keep any extra fiscal powder dry until autumn's Budget.



"There is light at the end of the tunnel, because what we're about to see is debt starting to fall, after it's been growing for 17 continuous years. That's a very important moment for us.

"But we are still in the tunnel at the moment.

We have to get debt down. We've got all sorts of other things we want to do. We've taken a balanced approach over the last couple of fiscal events, using the flexibility we had to continue paying down debt but also to provide additional support to our public service.
He's also tweeted a colourful explanation of what to expect:
After Hammond sits down Britain's fiscal watchdog, the Office for Budget Responsibility, will give its verdict on the chancellor's plans and the state of the UK economy.
Importantly, the OBR is also expected to release its estimate of the cost of Brexit, including a forecast of yearly payments from the UK to the EU. That could end up being the big story of the day….
Here's the agenda:
12.30pm GMT: Chancellor of the Exchequer Philip Hammond delivers the spring statement
1pm (estimated) GMT: Office for Budget Responsibility releases its latest Economic and Fiscal Outlook
3pm GMT: Office for Budget Responsibility press conference


[ad_2]

Source link